About the group
» Information om gruppen på svenska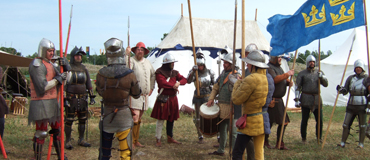 The Brothers in Arms Carnis, Fraternis Militia Carnis is a historical reenactment group that reenacts sceneries and the life of a medieval military camp. We have chosen to limit ourselves to the years 1364 – 1412. This is because in 1364, Albert of Mecklenburg (Albrekt av Mecklenburg in Swedish) is crowned King of Sweden and his struggle with Margerethe begins the same year. The struggle ended in 1412 when they both died.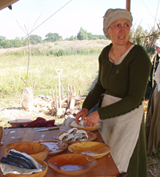 Our goal is to actualize how a military group from this period worked in the field within a siege camp. In this encampment we try to show different aspects of life; soldiers' combat training, craftsmen's work and the kitchen-staff´s hard work. We also show the difference in equipment and gear between knights, soldiers, craftsmen, kitchen maids and also the different ways in which these people lived.
To participate in an event arranged by Carnis you must fulfill the Standards for Equipment. New members will receive the help they need to get their equipment up to standards in the first year of membership (see Membership).